I have been scouring the earth Knoxville for a serpentine style dresser I could call my own, meaning it couldn't cost me a fortune. I was in luck when Missy's Treasures posted a beautiful serpentine dresser in white to her page that was just my size and price tag (cheaper than our awesome Ikea dresser). I got even luckier when I ran by her store to check it out snag it and also found a nightstand.
See the dresser and nightstand I've been using belongs to the set that now adorns our almost finished guest bedroom (which I plan to post about very soon), so I was in need of a new dresser and nightstand for our master bedroom. I needed it to not look too odd with the existing pieces too. We have a HEMNES dresser in white from IKEA and a hand-me-down Ethan Allen nightstand that my husband uses – which was still stained a dark wood. The Ethan Allen piece is really nice, but has a spot on the top from an aromatherapy bottle in a past life. Note to self: never ever ever set an aromatherapy bottle on a piece of wood furniture. 🙂
Why I was in luck with the nightstand? It has similar lines as the Ethan Allen piece, but is not all matchy matchy. So I was thrilled. Missy had painted and distressed both with chalk paint and while they looked fine, it was not the look I was going for in that room. And I wanted some consistency in color so that it didn't look too thrown together. Meaning I had another painting project on my hands and needed to figure out how to paint over existing chalk paint because unlike the adamant suggestion from the very helpful man at Benjamin Moore, I was not going to sand all of that off. (P.S. the picture below is an in progress shot).


Side note: You often find odd things when you purchase antique or older/used furniture. Behind the top drawer of my new dresser were a few shoe polishing bags, a silk scarf and a Knoxville Utilities board bill from 1976.
$131 for electric in 1976 seems a bit high to me! It's funny the things you find and learn from history. At this time, KUB was also on Gay Street in downtown Knoxville. And sales tax was a whopping 3.5%!!
Anyway, on with the show. So let me apologize in advance because I did not take any before images; I am using images from the store where I bought them with the owner's approval. I wish I had more before pictures so you could really see the difference. The dresser had some trim and cabinet layers that were peeling away and the nightstand had a big gash down the top that I had to fill/fix with wood filler.
I found a few different tutorials on painting wood furniture, including furniture that had already been painted. This one turned out to be the most helpful, but I also loved her post here. I also found this tutorial helpful and she has an entire page dedicated to tutorials for painting anything!
I chose Benjamin Moore's White Dove as my paint color because I thought it would closely match the existing Ikea dresser and it has a luster to it's appearance.




Here are the supplies I used: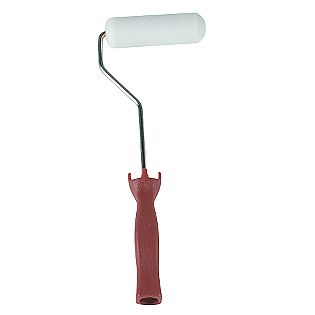 Medium Grit Sanding sponge blocks and paper (80 and 120) + Wood Filler + Putty Knife +  Odorless Paint Thinner + Soft Cloths + Quality Angle Brush + Foam Roller + Zinsser Cover Stain Primer + Fine grit sandpaper + Benjamin Moore Advance Paint Satin finish (in white dove) + Minwax Polycrylic water-based finish in clear semi-gloss.
Here are the steps I followed for both pieces of furniture:
1. Sand down any shine or wax coating and any rough edges. I did not sand off the entire coat of chalk paint, but just buffed it up enough for the primer to stick. A good oil based primer will stick to almost anything.
2. Fix any scratches, marks, holes, etc with wood filler. Elmer's is great. I also did this to fill the knob holes on my nightstand since I wanted to replace the ones that were there and wasn't sure they'd be the same size. Follow the instructions for drying time and then sand it down.
2. Clean off furniture with paint thinner or mineral spirits using a soft cloth. This will prevent fish eyeing in your paint from small pieces of dust and dirt. I used odorless paint thinner.
3. Prime that bad boy with a thin coat of good primer. I used Zinsser Cover Stain (the Gold label). This is an oil based primer, so use in a well-ventilated room (maybe not your bedroom with the doors and windows shut like I did). It doesn't smell too bad and it dries quickly – 1 hour and you can apply a second coat. I used a good quality 2″ angle brush made for oil based paints to get in all of the cracks/crevices and a 4″ foam roller to ensure it was smooth (not all brushes can be used with oils). Also, beware that the clean up will require paint thinner, not just water and soap.
4. Prime again.
5. Paint with first thin coat of good quality paint. I used Benjamin Moore Advance in a Satin Finish. It is an oil-based enamel (meaning it has a rock hard finish – great for furniture and cabinets that can wear easily) that is suspended in water (meaning it's water clean-up – YAY!). The best of both worlds. It's also low V.O.C. with practically no smell. I chose White Dove, which is a creamy white with a slight pearlescent appearance. So purdy and it matches the dresser from IKEA nicely. You will need to allow this layer to dry for at least 16 hours, but humidity extends that – so I left it to dry for 24 hours.
6. Lightly sand with fine grit sandpaper to smooth out any bumps, ridges or thick areas. You also need to sand so that the second coat of paint has something to grip to.
7. Clean off again with the paint thinner using a soft close.
8. Paint with a second thin coat of the Advance. Allow to dry for another 16-24 hours.
9. Ensure the furniture and your brush are completely clean. Using the same angled brush, apply a thin coat of a poly finish. I used the Minwax Polycrylic in Clear Semi-gloss. Be sure you bought the clear finish, otherwise it could discolor the piece to yellow. It comes in other finishes too if you want a satin or a high gloss look. I used the brush-on formula, but they make a spray as well. I actually wish I had known about the spray because it was so hard to keep small bits of dirt and dust out of the clear coat when brushing it on, but the Home Depot near our house did not have it.
10. You don't have to apply a second coat, but I did to the top of the dresser only because the first layer was not smooth enough for me.
11. Allow the pieces to "cure" for several days before moving it back into it's place.

To clean the paint off the drawer pulls on the dresser, I just soaked them in watered down paint thinner and then scrubbed it off with a Scotchbrite non-scoring pad. I had to put some elbow grease behind it to get a few of them clean. I even got out the toothpicks to get down in the crevices, but it worked and they look awesome. I love the aged antique brass against the fresh, clean white.
I lined the bottom of the drawers with adhesive liner paper I found at Publix of all places. I saw it and knew it was perfect because we plan to paint our bedroom a soft green color.
My next painting project is to tackle the hub's nightstand…painting over stained wood with a heavy coating of polyurethane should be a little different. 🙂